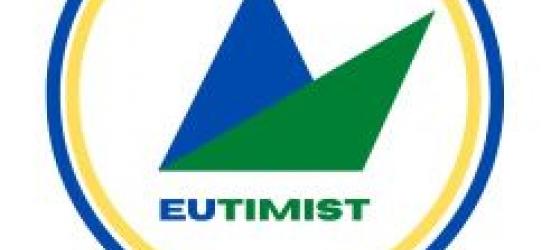 The logo of the Jean Monnet Module EUTIMIST - Transport Infrastructures, Multimodality, Interconnection, Sustainability and Technology is constituted by two cercles surrounding two triangles and its acronym EUTIMIST.
The blue and yellow cercles recall EU flag and cohesion.
The blue and green triangles within the circles remind the Module's topics; ship's sails and aircraft's wings for transport; airstrip, road or port's berth for transport infrastructure; butterfly and seagull for sustainability.
The triangles' combination also recalls interconnection and interoperability.
The infrastructure's concept is evoked by the concentric cercles recalling railroad tracks and roadways. 
The sky and sea blue colour also express technology. The green colour symbolizes sustainability and environment.
The Module's logo has been designed free of charges by Sofia Marchiafava.